Corona blue colorway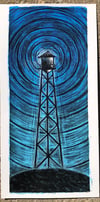 "Corona" , a three layer silkscreen art print in shades of blue and metallic silver, 12 x 24 inches. Printed at Ground Up Press in Chicago in an edition of 175 on Cougar white stock.
Dedicated to D. Boon of the Minutemen who wrote the song of the same name on the classic record "Double Nickels on The Dime".
I was inspired to make this print after drawing and sketching various water towers around Chicago and in Wisconsin the last few years. The lyric from "Corona" wound its way into my head a bit- "The People Will Survive, in their environment ..."
I hope you enjoy the artwork.